Bitcoin, Ethereum shift higher on US debt ceiling deal
Crypto spot markets were sharply higher on Tuesday, 30 May after President Biden and his Republican opposite number Kevin McCarthy stood up an eleventh-hour deal to raise the country's $31.4 trillion debt ceiling.
This very public political brinkmanship resulted in Ethereum moving past $1.9k and Bitcoin shifting upwards to the edge of $28k, their highest price point in three weeks.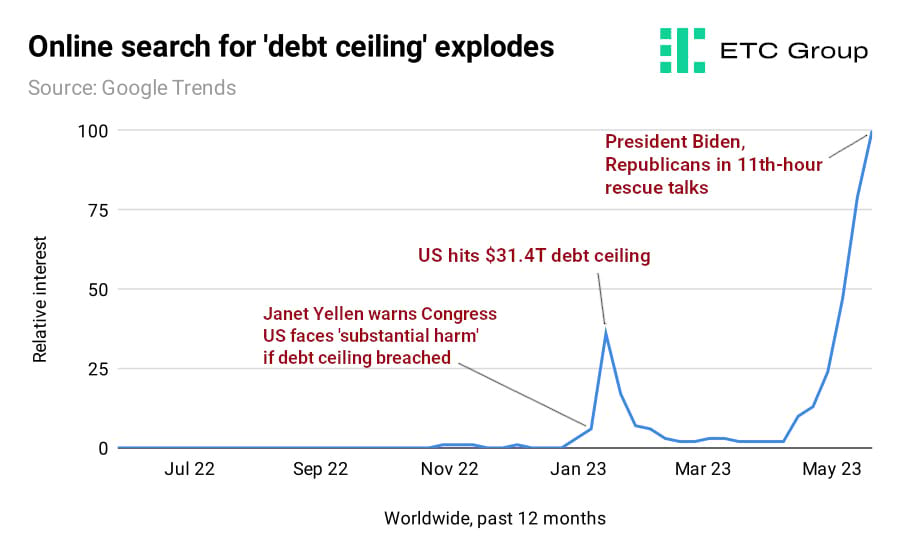 With US budget alteration coming sharply into the spotlight (for the 79th time since 1960, no less), especially so soon after a banking crisis, it is no wonder that investors have sought solace in alternative assets to protect their wealth.
And when it comes to setting debt limits - just as with cryptocurrency policy with MiCA - Europe seems to have a much more sanguine approach than the US.
The EU's has debt limits of a sort: the Growth and Stability Pact signed in 1997 - five years after the euro was made the bloc's common currency - stipulates that a state's debt cannot exceed 60% of its GDP. And in Denmark, for example, limits are set intentionally high so that their smooth functioning is a mere formality.
As the Atlantic Council think tank suggested recently,
in practice [debt limits] serve as orienting goals or tools of political bargaining at best, and triggers of economic chaos at worst.
In mid-May, the Treasury Secretary Janet Yellen broke cover to suggest to bank CEOs that more mergers - read: takeovers - may be necessary as the country attempts to navigate its way through a severe shock that began with Silicon Valley Bank and continued through First Republic.
Data shows that investors have continued to pull deposits since April last year, with more than $1 trillion has fled commercial banks as of the end of May 2023.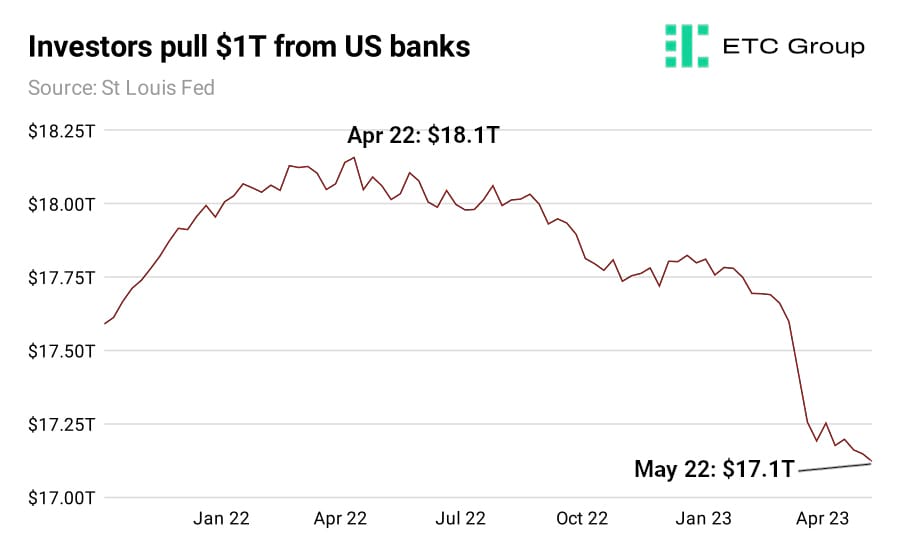 It is no surprise to see more assets moving into the supply-capped, disinflationary Bitcoin in a period of such turmoil, as the most valuable blockchain has become a release valve for traders and investors hedging against calamity.
And as billionaire hedge fund giant suggests, holding more Bitcoin than gold makes sense as an insurance policy against the weakening faith in ever-expanding national deficits.
Exchanges flock to Hong Kong with crypto on the menu
From 1 June, retail crypto traders will be allowed to legally trade on registered exchanges in the global finance hub, as the city region's leadership opens its doors to digital assets.
China-based Huobi was first in the queue, submitting an application on 26 May to trade digital assets including Bitcoin and Ethereum. Crypto businesses must apply to the Hong Kong Securities and Futures Commission for this licence before they can offer regulated services.
The city is a goldmine for those seeking capital, with luxury-focused family offices newly lured by planned tax incentives. As Nikkei Asia reported on 24 May:
The planned concessions were among measures announced Friday as dozens of wealthy elites flew into the city to attend an exclusive event for family offices, with regional rival Singapore throwing up stiff competition in a race to draw the super rich.
The move by Hong Kong to allow crypto trading has been taken as verification that China is softening its stance on crypto, albeit from a distance. As was made abundantly clear during the political unrest of late 2019 and early 2020, nothing happens in Hong Kong without the explicit backing of Xi Jinping.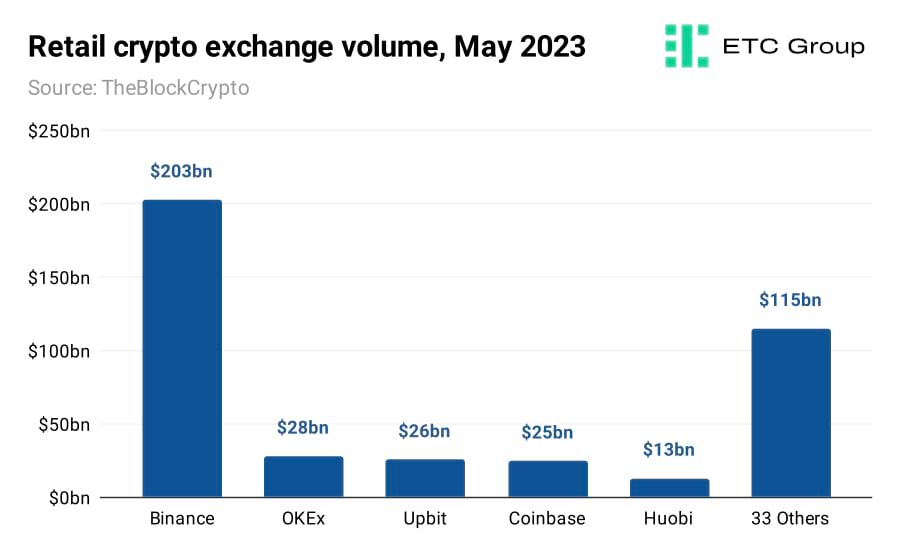 The state cannot overtly support digital assets now, having expended enormous political capital on banning crypto transactions and making Bitcoin technically illegal to use.
However, the sector continues to boom in China.
As we noted in Crypto Minutes #20, Chinese mining pools account for some 61% of Bitcoin's hashrate. Unfavourable policy in the US, including a proposed 30% tax on Bitcoin mining, has shifted miners' focus outside of the American borders. That levy, incidentally, looks to be scrapped under the recent debt ceiling deal. Growth areas include the EU, which now accounts for 4.4% of mining pool hashrate, while the US share has fallen to 27.6%.
China-linked exchanges continue to gain an ever larger proportion of the spot market, with Binance at 49.5%, OKEx at 6.9%, Upbit at 6.3% and Huobi at 3.2%. This combination now dwarfs San Francisco-based Coinbase (NASDAQ:COIN) with its 6.1% share.
Metaverse gains on AI boom
Assets in ETFs linked to the growth of AI are expected to triple to $35bn by 2030, research by Bloomberg suggests.
Mass public interest in the rapid adoption of large language models like ChatGPT, Google's Bard and Microsoft's Copilot means that AI stocks are grossly overvalued at present.
This tends to happen in tech hype cycles where optimism on company valuations far exceeds their earnings either in potential or in reality.
By contrast, metaverse-critical stocks such as DNS and cybersecurity provider Cloudflare, which is expected to turn its first annual profit this year, are still flying relatively under the radar.
Chipmaker Nvidia (NASDAQ:NVDA) is another key metaverse stock. It wowed markets with its Q1 earnings 53% above analyst estimates, and forecast a bumper second quarter of $11bn of revenue.
Nvidia's $10,000 A100 chip has quickly become the industry standard: according to New Street Research, Nvidia currently takes 95% of the market for the graphics processors used in machine learning and AI supercomputers. It has also built a commanding lead in the industrial metaverse with the use of digital twins for manufacturing, along with generative AI for 3D model and video game asset builders.
Inflows into metaverse ETFs so far this year suggest investors could be using them as a much-discounted proxy version of AI ETFs. Certainly, the price performance of top metaverse stocks has been a boon to investors. Tech stocks have been the biggest winners of 2023 to date, with the S&P sector up 30% this year. Financials, Utilities and Energy have fared the worst, with those indices down 7.2%, 8.9% and 10% in the year to date.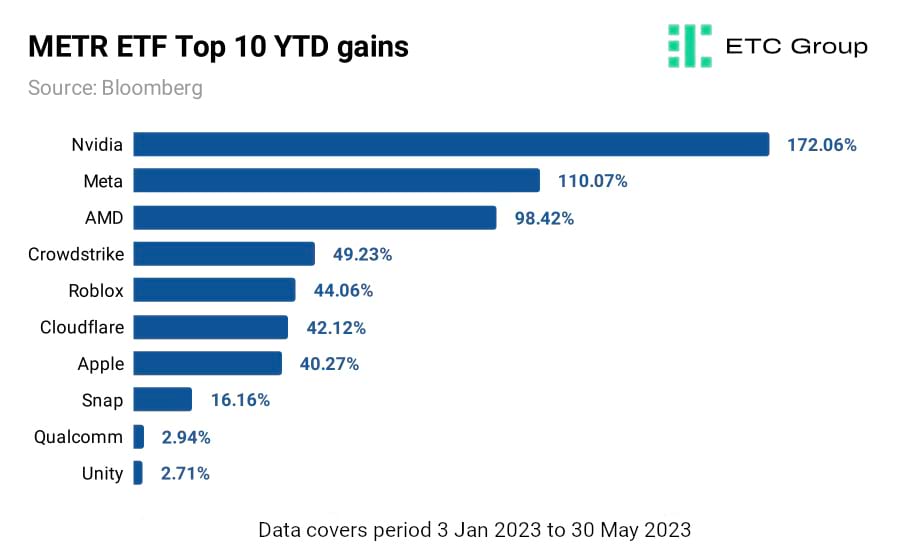 It is chastening to note that despite the headlines, Meta (NASDAQ:META) stock has more than doubled since the start of 2023. Then there is the small matter of Apple's Reality Pro augmented reality headset, which is expected to launch in early June at the Worldwide Developers Conference.
Markets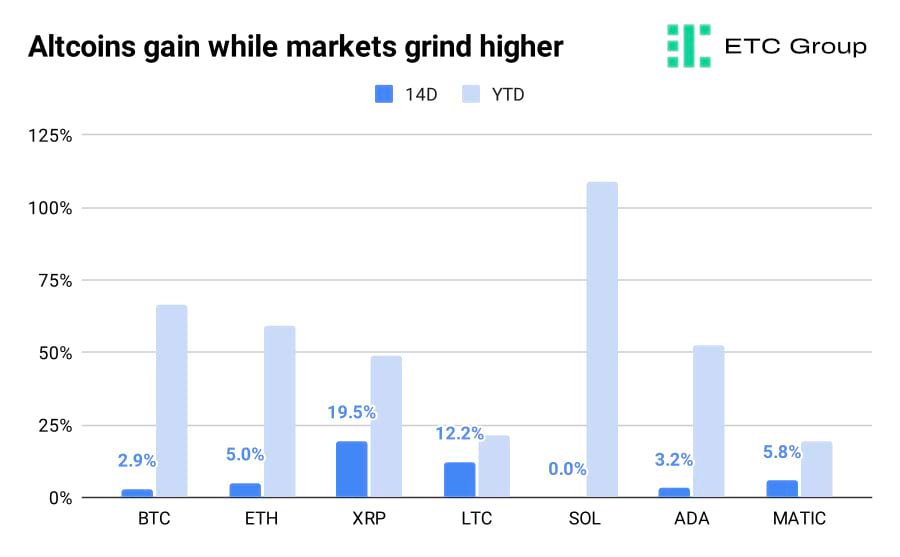 Crypto markets continued to creep higher amid largely sideways movement over the last two weeks, with Bitcoin gaining 2.87% and Ethereum 5.01% higher, compared to the S&P 500 and Europe's DAX index which were up 1.12% and 0.2% respectively.
Ripple's XRP enjoyed the largest gains recently, off the back of movements in its case against the SEC, with the company winning the right to unseal hotly-disputed documents in which the former director of the agency's Corporation Finance Division Bill Hinman indicates that ETH is not a security. XRP has climbed 19.53% in the last two weeks.
Top 10 Layer 1 blockchain Solana was effectively flat, while its rival Cardano shifted 3.2% higher.
Litecoin continued its upward movement, seeing a 12.24% uplift, with the Proof of Work blockchain's halving event just around the corner. The amount of LTC available for miners to create will be cut in half in just over two months. Historically, halving events have put upwards pressure on asset prices as supply falls while demand remains consistent.
Haftungsausschluss | Copyright © 2023 ETC Group. Alle Rechte vorbehalten